And more!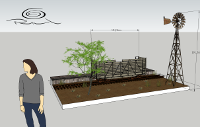 Imagination without limits.
In PaulEstudios we are open to create or reproduce any complex or simple project, we love to study the case and make it real, if you've always had in mind an idea talk with us and together can make it a reality.
If you want to go a little further in your scale model that is not only to be viewed but also you want a supplement works, this is your section, we can install moving parts, lights, sounds, all automatic or manual, if we can create it we can make it works also.