Educational games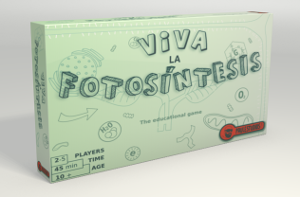 VIVA LA FOTOSÍNTESIS
PaulEstudios also designs and manufactures together with professionals of each subject, educational games as didactic support material for schools, high school and institutes.
Viva la photosynthesis is the first of its kind, a game of up to 5 players where you will learn how plants perform photosynthesis, cellular respiration and how they interact with other plants for the struggle of natural resources.
This kind of games designed by the brand, tries to take the maximun adventage to the impressive abilities that a game can have when teaching concepts, colors association, forms, terms, linear structures, etc., they are perfect as a base in the game mechanics without leave aside the gameplay and competition to win the game. So, Viva La Fotosíntesis is transformed into a strategy game and you will learn something new.
Visit the project canpaign at kickstarter where you can fint more info about the game.
Also you can download the rule games: Rule game (Spanish).