PaperHuman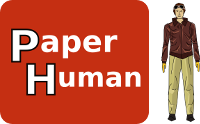 One figure, unlimited poses!
PaulEstudios has created this fantastic collection of paper figures fully customizable, download the file, printet and build according to the pose of the scene that is required, you can print as many as need.
With one new every month PaperHuman will be available at different scales and themes to create your own collection, Roman soldiers, Wild West, fighter pilots, tank crews and many more!, visit our ONLINE STORE to start your own collection!!!